When I was unimaginably young… Twelve or so…. I read a slim, rather monochromatic book by a certain I. Grigoriev, a practical Russian man, not easily bedazzled. His book was monochromatic in style but not in content. It revolved around that evening in 1909 when Sergei Diaghilev first showed to Paris the Ballets Russes and started in consequence what proved to be a revolution in the World of Art.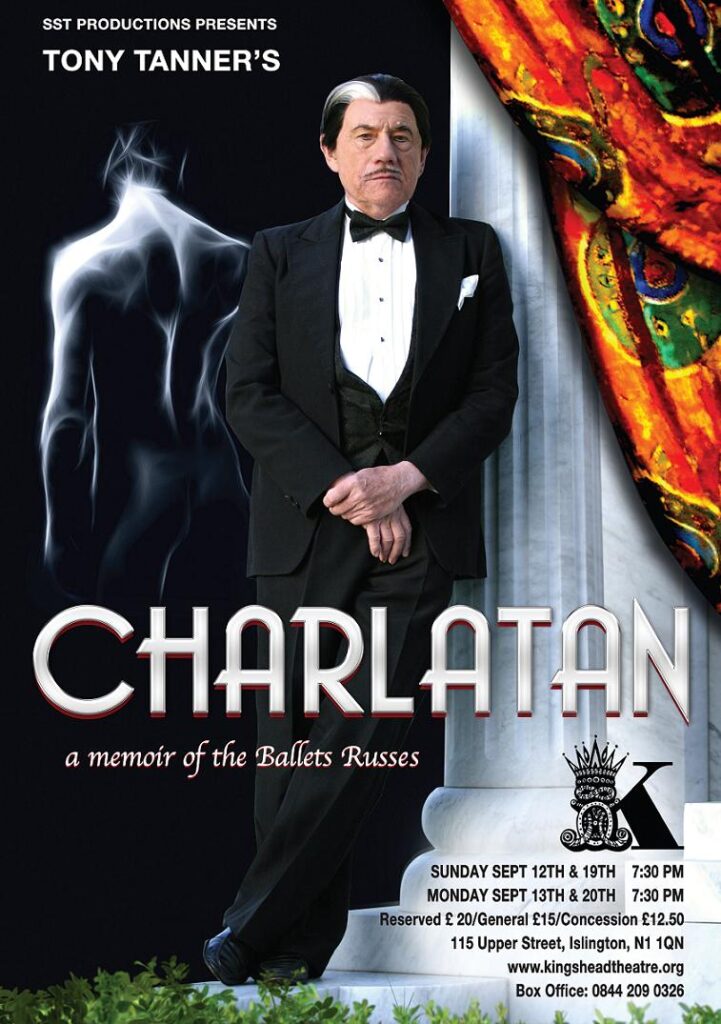 The idea that in one evening, one company of superb dancers and inspired designers could set off shock waves that would travel around the world and would still resonate in my own time was almost too intense a notion for my young noggin to contain. I read and re-read the chapters that dealt with the time before that opening night (Actually an invited dress rehearsal)… the feverish preparations, the ceaseless work and the time after, when the rapturous cries of their Paris audience would exceed even their most hoped-for outcome.
I wanted to be part of it. I wanted my own moment when, from working class – at that point – fatherless obscurity, I would leap into a spotlight that would never thereafter darken. That moment never quite came but others did.
Years… I mean years later… I went to see Pat Carroll as Gertrude Stein in a small New York Theatre. She and it were deliciously entertaining. Backstage I asked her: "Do you think your man would write another one person play about Diaghilev for me?" "He has done", she answered: "And it stinks."
I went home and that night started work.
Of course I read and re-read… of course I went to Lincoln Centre and accessed Jerry Robbins films of the Ballets Russes in mid-century, cavorting soundlessly in black and white, of course I printed every picture I'd ever seen of their costumes and performances onto both retinas.
The fact is I wrote headlong. Checking, checking as I went bounding on but I'd read so much, and imagined so much: all the things that were not written… his anguish at the work that did not fly, the loves that did not last…
The first draft took two weeks to construct. I changed little thereafter.
I toured friend's apartments, pinning them to their respective couches with my monologue. Finding out how to write it, how to right it.
The first bigtime performance was in a nice apartment on the Upper East Side. Some suits were there. Sitting in the middle of the audience, in plain view, a middle-aged lady who never stopped moving. Lifting her glass, lowering her glass, shifting her not small head from side to side.
I got through it somehow. Made no demur, whilst seething inwardly. Found out later she was a victim of Parkinson's disease. Boy was I glad I kept my mouth shut.
First time in a theatre, the old Roundabout under a supermarket on the Upper West Side. It was a nice configuration, audience on three sides. There was however the perpetual smell of rotting produce to overcome before enjoyment of the play could begin.
I was pacing in the light booth, peering every now and again through the small glass panels to see if true friends had shown up to be part of that invited audience. Some did, and then I saw a youngish Impresario arrive who's specialty was the Dance. I'd only recently been introduced to this man and he had a guest with him.
I know that bloke I thought to myself; at least I knew his younger self. It was I realized with a shock Anton Dolin, one of Diaghilev's premier danseurs and also his paramour. He was mentioned. More than once, in the show. Oh God. They sat in the front row. Most of the show I did about four feet from them. I got through the first act somehow.
In Act Two I recount the time Nijinsky, the once great dancer, now a hopeless schizophrenic was taken to the Paris Opera to see a dance he had created, in the hope of jogging his memory and sending some ray of sentience through his brain. As it happens, after a hopeful moment or two, the visit proved a failure. As I got to Nijinsky's faltering exit from the stage I made the mistake of looking down at Mr. Dolin. His head was lowered and he was shaking it slowly from side to side.
It unnerved me. I stopped. "I'm sorry Mr. Dolin, " I said, "I'm doing my best with the material available."
He looked up at me with two faraway eyes. 'No, no,' he said, "That's exactly how it happened."
I have nothing more to say on this subject.
Some sample reviews:
"Vivid descriptions beautifully capture Paris Premieres." – NEW YORK TIMES
"Brilliant evocation…superb actor… ranks with the best of the genre." –MINNEAPOLIS STAR TRIBUNE
"Witty, acerbic…. the past lights up."
– VILLAGE VOICE NEW YORK CITY
"Spellbinding"….. WQXR RADIO N.Y.CITY (Francis Mason)
"Spellbinding"… – LA DRAMALOGUE
"Vividly, unforgettably brought to life…: – OFF OFF BROADWAY REVIEW. NYC.
"Diaghilev…. reincarnated by Tony Tanner: uncannily summoned the man's style". – DANCE MAGAZINE
"Deeply moving, vastly entertaining…" – BACKSTAGE
"Replete with Mr. Tanner's vivid characterizations of Diaghilev's appreciations and sarcasm." – ON STAGE